A sitewide sale offer applies to all items on a website. It's usually a percentage off like a 15% discount storewide. Most of the stores run it to encourage purchases.
Now offering a sale/discount is easy. But creating it or any other offer is a big challenge.
Design, offer copy, CTA, coupon…quite a lot of tasks to do for each offer. Time-consuming and expensive, and also no guarantee of conversions.
So how can you automate these tasks and set up a WooCommerce sitewide sale or storewide discount offer within minutes?
Let's find out.
Select from readymade campaigns and your sitewide sale is live
Yes. It's that easy, provided you use Offermative plugin on your WooCommerce store.
Offermative plugin's AI completes 15+ tasks for you automatically – campaign designs, copywriting, conditional logic and offers.
Choose from readymade offer campaigns, make them live and watch your revenue pick up.
WooCommerce sitewide sale, upsell, cross-sell, order bumps, BOGO, bulk discounts…run all types of promotional campaigns with powerful targeting rules.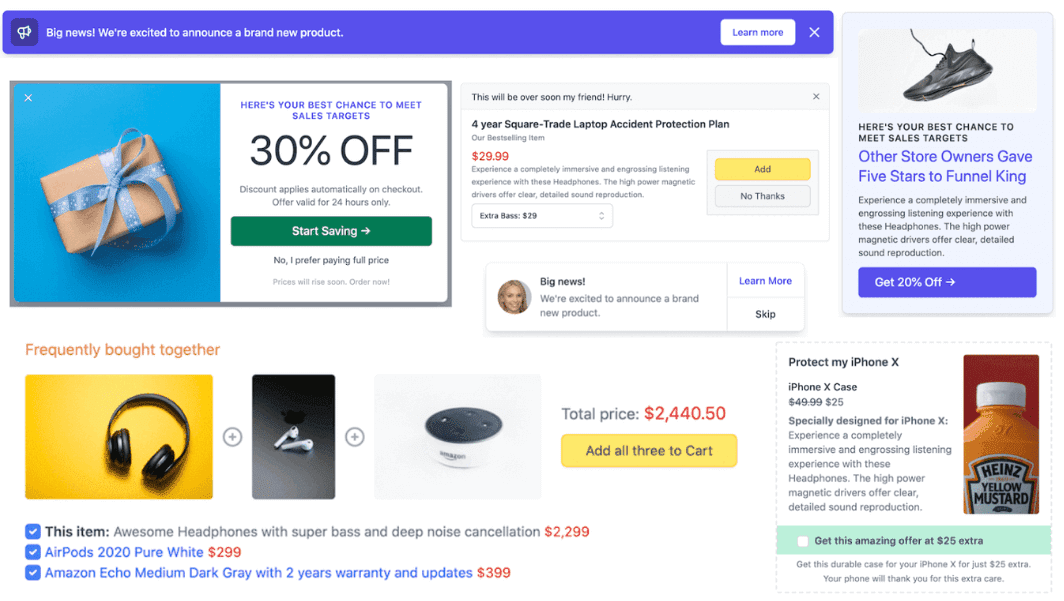 Steps to setup a sitewide discount offer
Purchase Offermative plugin, install and activate it as you do for any WordPress plugin.
Then, log in using your email and password (automatically sent to your email).
Enter some requirements under the Settings screen as shown – your target customers, their desires, the language you want to generate the offer, the maximum discount to offer, and any exclusions. Save your Settings. More about it here.

Now you'll see the Generate Offer Campaigns button. Click on it. You'll have further two options:

Let Offermative decide option
Other offer types (you can choose multiple options)

Select the 'Sitewide discount - fixed or percentage' option. You can also select other offer types. Click on Generate.

Offermative will generate ten campaigns in one go each on click of the Generate Campaigns button. Click the same button to generate more campaigns.
You'll see your offer designs and the text already generated for you. All are editable. Use the arrows to navigate between campaigns if you don't like any.

Give a title to your offer, say 'Flat 35% off everything'.
Enter the discount amount.
Select the pages where you want to show the offer.
Choose the date range and time the offer will be shown to the visitors.
Below is the TEXT section you can edit for the offer copy – headline, description, CTA…
Since it's a sitewide sale and you want to show it to all users, do not set any rules. However, you can set some rules to show offers based on products, product category, cart total if you wish to.
Offermative provides multiple message types (mobile-optimized) to show you offers – pop-ups, slide-ins, header-footer bars, notification boxes…select the ones you like. You can also test with different message types on different pages to see which converts better. View more about campaign generation.
Tick the Approve checkbox and hit the Publish campaigns button.
That's it.
When a visitor lands on your website, they will see the sale message. And when they add products to the cart, the discount will be automatically applied.
Neither you need to create any coupons, nor do the visitors need to apply them. It's all done for you.
You can check the Offermative dashboard to see how your sitewide sale offer is performing. You can view offer stats and also extend or pause them based on performance
The beauty of Offermative is you can set up offers on hundreds and thousands of products within minutes anytime.
Wrapping up
Offering sitewide discounts always improve sales and drive more traffic to your WooCommerce store.
Hence, if you are looking for a quick sales boosting strategy for your store, Offermative is your best, easy and most promising WooCommerce sitewide sale plugin that won't disappoint.