Unique WooCommerce cross sell plugin
Offer the right products and grow sales
Offermative automatically recommends related or complementary products to users, nudging them to buy more. Design, copywriting, targeting, coupons… it's all done for you.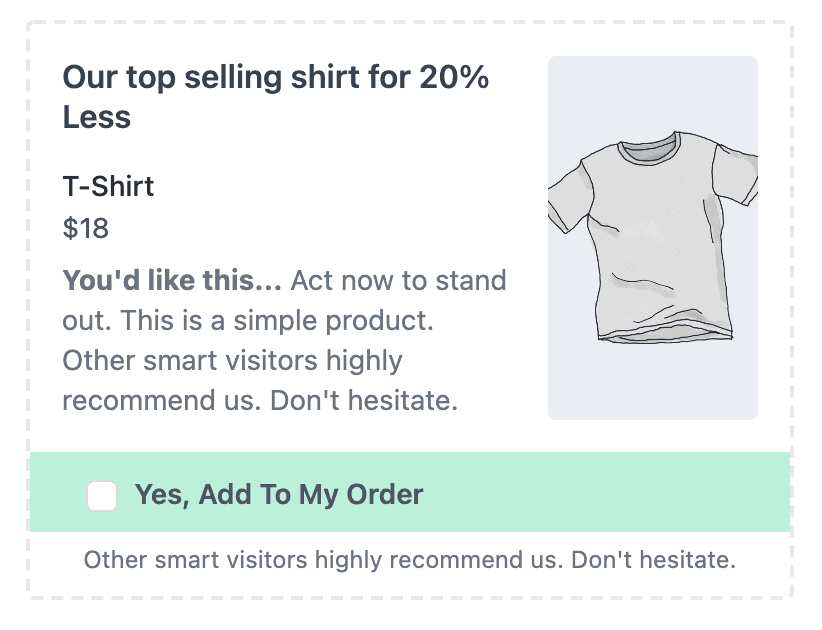 Limitations of WooCommerce cross-selling
Out-of-the-box, WooCommerce has very limited cross-selling features.
You can use it only on the cart page
There are no targeting rules or customization (means lower chances of conversion)
You can't set a special price for cross sell products
You have to manually set up cross sell for each product
That's the reason why you need a purpose-built WooCommerce cross-sell plugin.
Best WooCommerce cross-sell plugins?
There are a handful of WooCommerce plugins that do cross-sells and upsells. Some plugins are not exactly for cross-sells but their features can be used to set up cross-sells.
Popular plugins are Product Recommendations, WISDM Custom Product Boxes, Cart Upsell for WooCommerce, Cart Add-ons, Boost Sales for WooCommerce, WooCommerce One Click Upsell Funnel. There are also more comprehensive options like Smart Offers, Cart Flows etc.
They are good but most of them require manual work and lot of configuration. You also get stuck to the limited functionality they provides.
Additionally, showing the right product at the right price at an appropriate time in the buying process is key to conversions. With all these products, you're really just doing trial-and-error. And while that's not too bad, it would be much better if there was some AI in the system and it allowed quicker experimentation.
Offermative is the most intelligent cross-sell plugin
Offermative automatically generates ready-to-go-live cross-sells, upsells and product recommendations without you doing anything. From design, to copy, from targeting rules to coupons, from placement to reporting – it's all taken care of.
Apart from standard cross-sells and upsells, Offermative can also create campaigns like 'Customer who viewed this item also bought' or 'Frequently bought together' recommendations that you've seen Amazon.
You can show visitors a range of products at different stages of the customer journey.
Offermative improves product visibility across your WooCommerce store. You win customers' trust too as they experience personalization.
In short, it's the most comprehensive and effective plugin to run all sorts of promotions in your sales funnel.
Better cross selling = Higher sales
Offermative is like a smart marketer, effective copywriter, amazing designer, detail oriented web developer, big data analytics expert and strategic mentor – all rolled into one. It automatically does everything for you and gives you control to fine tune.
AI generates complete campaigns
Click on the 'Generate Campaigns' button and Offermative generates multiple offer campaigns. Navigate through them, select the ones you like and make them live.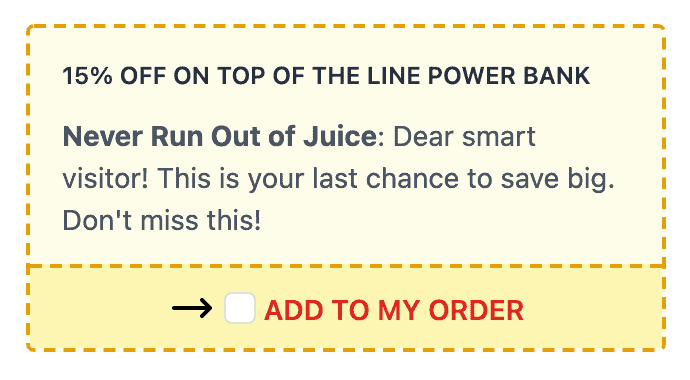 Cross-sell using cart bump and order bump
Nudge visitors to buy more without disturbing their flow. Use cart bumps (shows on cart) and order bump (shows above or below Make Payment button) to increase average order value – without abandonment.
Boost sales without discounts
You can run highly targeted cross-sell offers on hundreds of products and variations. This can bring in a lot of extra revenue without running bumper discounts – or any discount for that matter.
Intelligent product recommendation engine
Offermative picks up cross sells using multiple smart algorithms. It tries to optimize sales, inventory and conversions.
Use pre-purchase and post-purchase offers
Cross sells can show on product page, cart page, thank you page, my account or anywhere else. Rules allow precise control over who sees the offer.
Stop worrying about copywriting & designing!
Most of us struggle with the headlines, copy text, and design perfection. Offermative generates awesome copywriting and beautiful designs automatically.
Track promotion performance
Did the cross sell offer convert more on the product page or cart page? Know exactly how much revenue each offer makes for you, impressions and conversion rates. Then improve and repeat.

Oh, it's not just about cross-selling.
Offermative packs a lot
Upsell, BOGO and many other types of offers in the funnel
Giveaway, discounts, order bump, cart bump offers
Notify customers about new product launches, hot-selling products or upcoming sales on your store
People are making thousands of extra dollars every week
"I can now quickly run campaigns on multiple courses to recommended other courses. This has given immediate boost to sales."
"Designs, customization, ease of use. Offermative is a solid tool to try out different campaigns and grow sales."
Still unsure?
WooCommerce influencers – including Chris, Patrick & Alex have hailed Offermative as a game-changing solution for every WooCommerce merchant
Offermative is developed by StoreApps – official WooCommerce extensions developer, with more than a decade of track record, 300k+ customers, 350+ five-star reviews and renowned support
There is no risk and it's worth the purchase