Nudge customers with products they can't deny
Automated WooCommerce order bump plugin
Offermative will show the right upsell / cross-sells product offers and increase sales without disrupting users' flow in the checkout funnel. They'll say "I also want this"!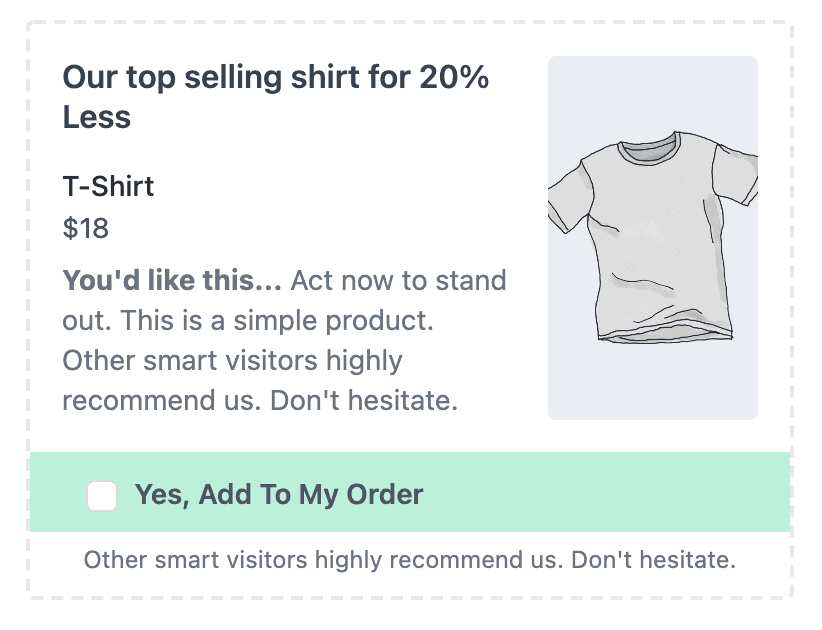 'People will abandon offers on the WooCommerce checkout page' is a myth
Cross-selling related products on product landing pages is common. But many people fear that showing offers on the cart or the checkout page may lead to confusion, resulting in abandonment.
The reality is that relevant cross-sells /upsells after product selection are one of the best ways to increase the chances of order completion as well as increase order value. It's like offering fries after someone selected a burger or a multi-site license after someone selects a single-site license. You want shoppers to first select their product and then show some additional related products.
People are most attentive on the checkout page. They know what they are buying, they have mentally purchased the item. So this is the ideal time to pitch additional discounted or low-priced add-ons and they won't deny. That's an impulse purchase. Don't we add some chocolates to our order when the Cashier does the billing?
Order bumps are the most effective ways to do such cross-sells for related products. They capture visitors' attention and add the product to the order with just one click.
Popular WooCommerce order bump plugins are good but…
There are different WooCommerce order bump and upsell plugins – Smart Offers, CartFlows, MakeWebBetter, WooFunnels, Sales Booster, Product Recommendations, WISDM Custom Product Boxes, Cart Upsell for WooCommerce, Cart Add-ons, Boost Sales for WooCommerce, WooCommerce One Click Upsell Funnel, etc.
But using these plugins requires additional work and configuration. They help with some of those lengthy steps in discount offer set-up, but you still have to take care of designing, copywriting, product selection, offer position, and actual promotion. You also get limited targeting.
Some plugins are limited to specific offer types only. If you want to add other types of offers to your sales funnel, you may need to buy other plugins. That's even more work and an expense.
Offermative includes everything. It is the most comprehensive and effective WooCommerce discount plugin to run all sorts of promotions in your sales funnel.
Offermative creates automated order bump offers that convert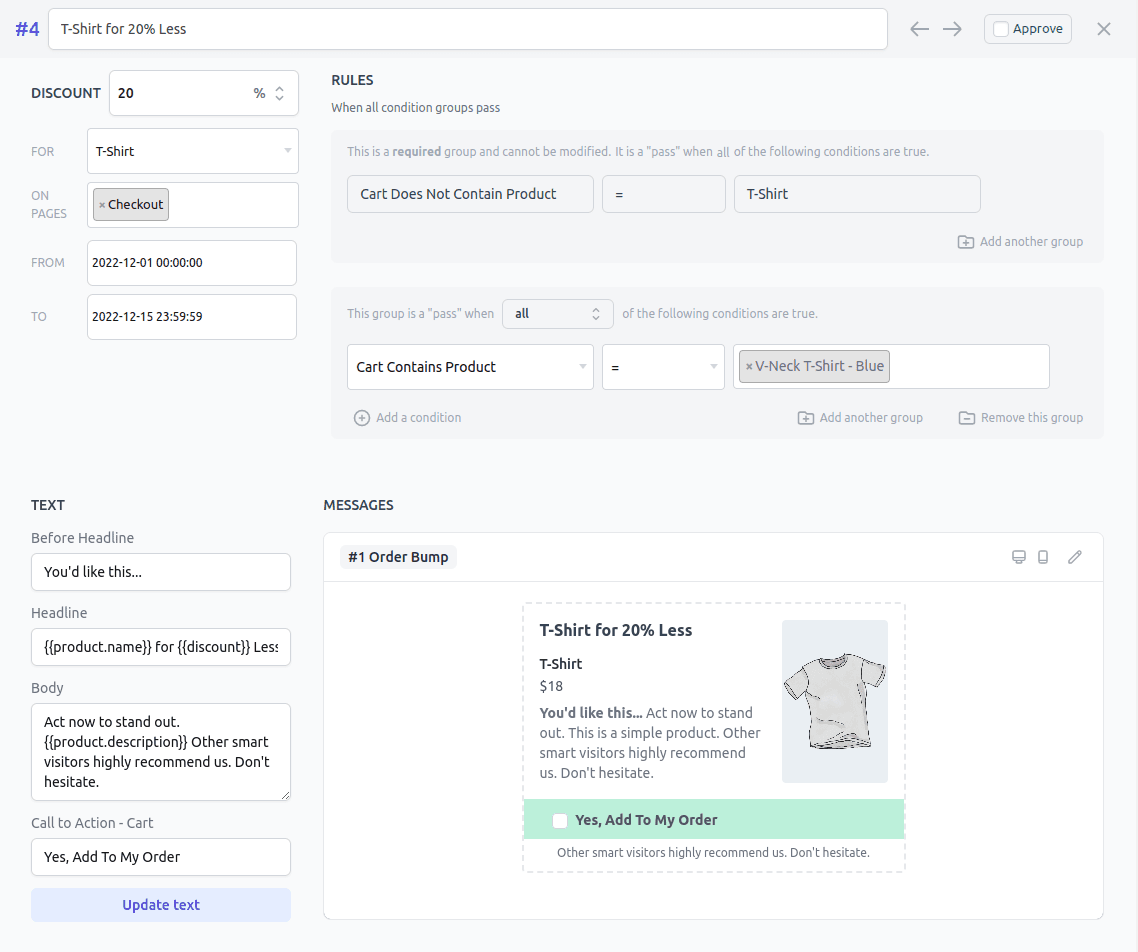 Yes. That's your answer to "How do I make an order bump in WooCommerce?" Offermative generates order bumps and many other offers – upsells, cross-sells, cart bumps, discounts – that you can run on your store. The best thing is that Offermative creates everything automatically – from design to copywriting, targeting rules to coupons, display to tracking.
Select the order bump offer, choose products, targeting rules, change the offer copy if you wish and make it live. You can also select a cart bump offer which is similar to an order bump but shows on the cart page.
Offermative helps convert both first-time buyers and repeat customers.
"I can now quickly run campaigns on multiple courses to recommended other courses. This has given immediate boost to sales."
"The AI part of the plugin is very good. The automated rules are good. Overall, it's simple, plug and play plugin to increase revenue."
Run hundreds of order bump offers like these with Offermative
Electronics, groceries, food and beverages, insurance, health and fitness, plugins, themes, consultancy… whatever you sell, your customers would say 'I also want this'.
Extended warranty / maintenance contract on purchase of electronics and white goods
Premium support for a few extra bucks
Extra cents to qualify order for free shipping
Accessories on purchase of a laptop or protective case with mobile
Discount to upgrade to Pro plan
Marker / pen on purchase of a set of books
Audio version on purchase of courses
Toffees or munchies on purchase of groceries above a certain amount
Tie with a formal shirt
Clutch on purchase of a handbag
Butter spread with bread
Cleaning kit / polish on purchase of shoes
Exclusive consultation for a month on joining a fitness program
Access to members-only content – resources, videos, podcasts for few additional bucks
Two nights stay at a luxury resort at 50% off on holiday membership plan
Corona cover add-on along with your health policy
Zero-dep or engine protection add-on while buying motor insurance
$10 credit as a giveaway that can be redeemed on the next purchase.
Think of any product and you'll find an item for cross-selling using order bumps. You can run unlimited order bumps with Offermative.
Not your traditional order bump plugin
Offermative is a complete package – marketing, effective copywriting, designing, development, and analytics. It automatically does everything for you and gives you control to fine tune. Offermative will help you show offers that make you money.
Simple setup and configuration
Click on the 'Generate Offer Campaigns' button, then select the 'Cart bump' and the 'Order bump' options. The plugin will generate multiple order bump offer campaigns. Navigate through them, select the ones you like and go live in minutes.

Support for product types
Any product can be attached as an order bump; be it one-time fees or subscription; both physical and digital products can be attached as an order bump.
Auto recommend products or choose manually
You can select products on your own to show as offer bumps or leave it to Offermative. The plugin will auto recommend products based on buying behavior of other shoppers.
Order bumps based on targeting rules
Show offers if the cart total is greater than $X amount. Show offer based on lifetime value or product category. Offermative packs lots of targeting rules you can combine.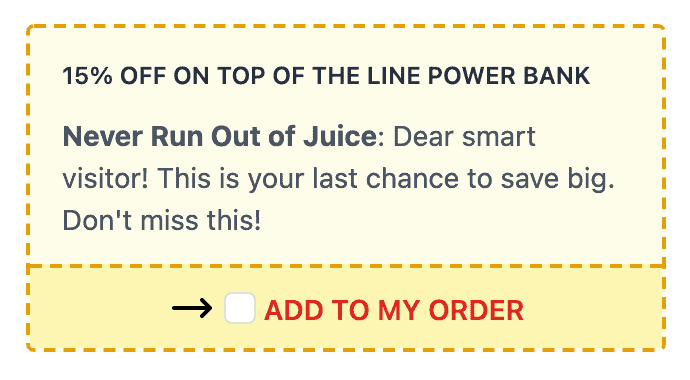 Boost sales with or without discounts
Set up order bump offers for hundreds of products and variations – with and without discounts and identify which one performs the best. It increases perceived value and brings in a lot of extra revenue.
Order bumps on other pages
You can select pages other than the checkout page to see how well order bumps convert on these pages.
Go beyond order bump
Not just order bumps, there are lots of other responsive offer types built-in – header / footer bars, inline messages, cart bumps, messengers, notifications, recommendations for cross-selling.

Oh, it's not just about order bumps
Grow with more smart offers
Run cross-sell, upsells, giveaways, BOGO, sitewide discount, and dozen other offer types
Works for different industries, products and stores
Discounts, nudges or recommendations – everything's included and automated!
People are making thousands of extra dollars every week
"Designs, customization, ease of use. Offermative is a solid tool to try out different campaigns and grow sales."
"Quite happy and impressed with the designs, the rules, copywriting text, everything. Showing discount offers based on product purchases is valuable too."
Still unsure?
WooCommerce influencers – including Chris, Patrick & Alex have hailed Offermative as a game-changing solution for every WooCommerce merchant
Offermative is developed by StoreApps – official WooCommerce extensions developer, with more than a decade of track record, 300k+ customers, 350+ five-star reviews and renowned support
There is no risk and it's worth the purchase