Convert hot and cold prospects into customers
AI-driven WooCommerce discount plugin
Run discount offer campaigns that convert. Product selection, targeting rules, designing, copywriting, coupons… Offermative generates everything automatically for you!

Discounts and coupons work great but are hard to set up
It takes 15 different steps to run an effective discount campaign. They're worth it, but…
Everyone loves discounts. Discount coupons convince even hesitant prospects to buy. But do all discounts convert? Is it easy to set up? Not necessarily.
Chris Lema outlines 15 steps to set up an effective pre-purchase promotion. You have to think about which products to discount, how much to discount, create a coupon, decide what to exclude, decide the targeting rules, design the actual promotion offer, worry about headlines and CTAs. Then there is mobile responsiveness! Finally, you need to promote the offer. And then track results and tweak offers as needed. There's a lot to do.
And you still don't know if it will work or not.
Quite a challenge right? And it's the same every time you create any discount campaign!
So what's the best WooCommerce discount plugin?
There are lots of alternatives when you look for WooCommerce discount plugins. Most prominent are Smart Coupons, Dynamic Pricing, Discount Rules, Cart Notices, Advanced Coupons and many more.
Generally, they are excellent solutions – but suitable for specific use cases and particular types of businesses. They help you with some of those lengthy steps in discount offers setup, but you still have to work a lot on setup, designs, copywriting and actual promotion. Some of these plugins are also very expensive. At the end of the day, you still have to do a lot of work – after spending a lot of money!
There is nothing that takes care of almost all types of funnel discounts – pre-purchase and post-purchase. There is limited design automation. And no copywriting assistance.
Here's a unique, done-for-you solution…
Offermative generates ready-to-go-live, high converting discount offers in one click. Click a button and Offermative creates a handful of WooCommerce discount campaigns and offers for you. From product and discount selection to design, copy, targeting rules, creating coupons, offer placement and reporting – everything is automatic.
You can tweak things if you like, but you don't have to wait for developers, designers, marketers or copywriters to go live. Offermative clubs all that genius into one app.
Offermative is a super-cool solution to nudge and convert visitors and make sales on autopilot.
"I instantly got attracted to the readymade offer designs. Everything is so quick and automatic that I can run discount offers on lots of different products and grow sales easily."
"The biggest pain Offermative solved for me is the entire offer creation process! I don't have to deal with any coding, designing or coupons."
It's different from all other discount plugins you've seen.
Offermative is like a smart marketer, effective copywriter, amazing designer, detail-oriented web developer, big data analytics expert and strategic mentor – all rolled into one. It automatically does everything for you and gives you control to fine tune.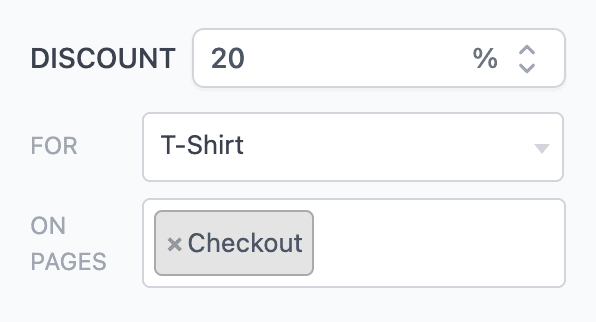 Set up discounts automatically
Click the 'Generate Offer Campaigns' button and this plugin will generate multiple discount offers. Navigate through them, select the ones you like and make them live. No need to set up discount coupons manually!
Multiple designs to show offers
Use popups, slide-ins, inline, header/footer bars, cart bumps or notification boxes to show discount offers. Each message is carefully crafted for conversion, mobile responsiveness and theme compatibility.
Many types of discounts
Product discounts, category discounts, quantity discounts, exclusions, sitewide discounts, percentages and fixed discounts. Discounts based on rules. Offermative lets you run multiple types of discount offers in WooCommerce and will create necessary coupon codes automatically.
Powerful targeting rules
You don't need to show all discounts to all visitors. Use lots of different rules – product, category, cart total, order, quantity, type of visitor, etc. BTW, Offemative's algorithms create targeting rules for each discount campaign automatically – and you can tweak them if you like.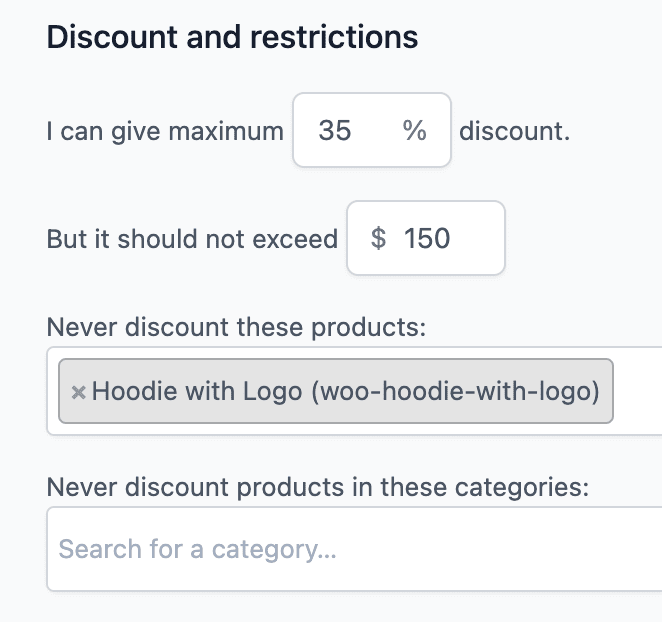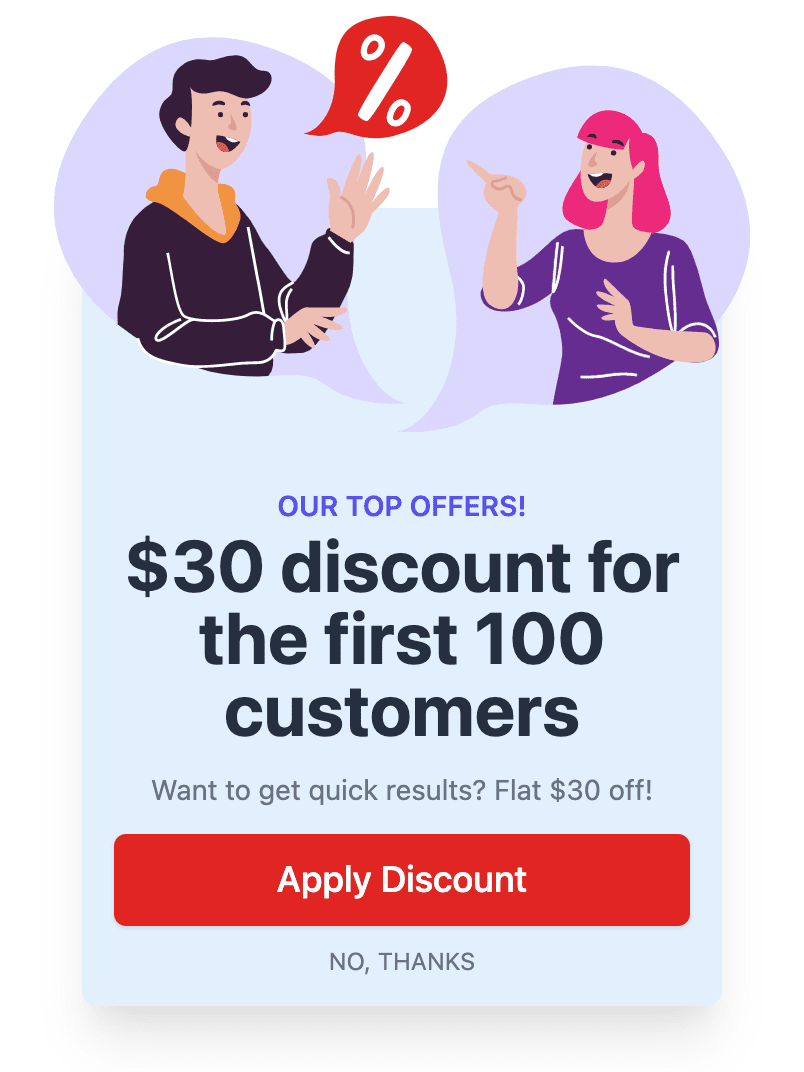 Grow without deep discounts
You can run highly targeted small discount offers on hundreds of products and variations. This can trickle in a lot of extra revenue without sitewide bumper discounts.
Offers in checkout flow & blogs
Run nudges, discounts and order bumps throughout the sales funnel. You can even experiment with showing promotions on your blog or any other section on your site. That way you can convert completely cold traffic to customers!
Copywriting & CTAs done for you!
The headline, copy text, call to action button label. These are things most of us struggle with. Offermative generates them for you automatically, and you can edit them as you like.
Track discount performance
Did discounting really help grow sales? Know exactly how much revenue each offer makes for you, impressions and conversion rates. Then improve and repeat.
"$2000 in one week"
"best plugin – even if you don't like running discounts"
"it's so easy"
"use this on all my sites"
"converts visitors to customers"

Oh, it's not just about discounts.
Offermative does a lot more than discounts
Upsell, cross-sell, BOGO and many other types of offers in the funnel
Related product recommendations, order bumps, cart bump offers
Set up ready-to-go-live promotion campaigns in minutes
"This is a solid solution. The designs, automation, recommended section and inline messages… Very useful for us."
"Designs, customization, ease of use. Offermative is a solid tool to try out different campaigns and grow sales."
Still unsure?
WooCommerce influencers – including Chris, Patrick & Alex have hailed Offermative as a game-changing solution for every WooCommerce merchant
Offermative is developed by StoreApps – official WooCommerce extensions developer, with more than a decade of track record, 300k+ customers, 350+ five-star reviews and renowned support
There is no risk and it's worth the purchase