WooCommerce related products plugin
Grow sales with intelligent product recommendations
Offermative automatically picks related products, recommends them and boosts conversions. Not just products selection, but also the targeting rules, offer designing, copywriting, coupon creation… everything is automatic.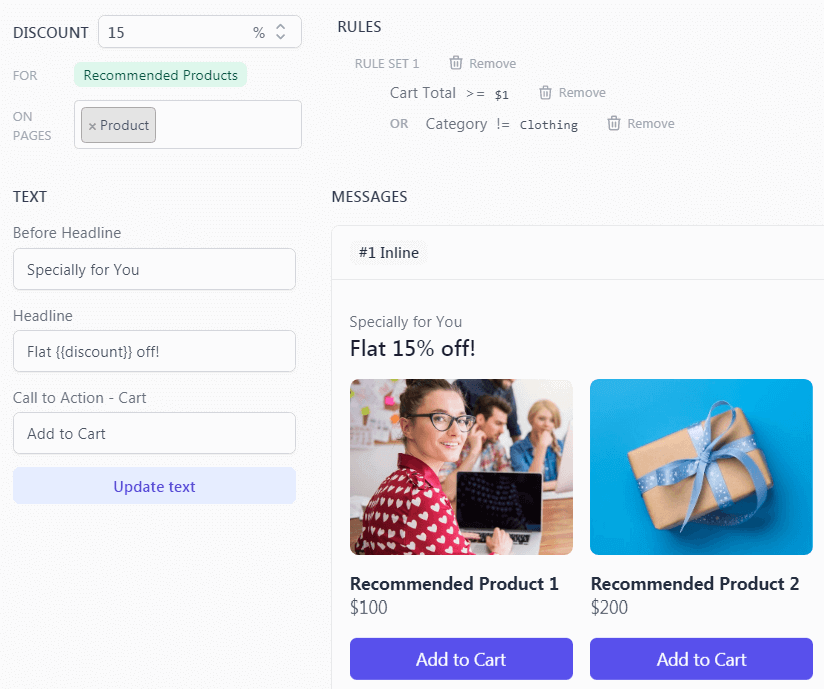 Dynamic recommendations give your products higher visibility
Showing related products increases sales and cuts abandonment but…
No one buys a laptop without a bag, or bread without butter. You know what your prospects need. But they don't know that you sell those products.
People try to upsell related products during checkout, through popups, emails and others. But setting up and running related product offers is not easy.
What products to recommend, will the audience find them relevant, setting up coupons, copywriting, coding… It's a daunting task.
Yet the bigger risk is showing irrelevant and interfering products. Bad recommendations may repel people from placing their first order itself.
Popular WooCommerce related products plugins…
WooCommerce has a way to show upsells / cross-sells, but it's all manual work and you don't get control over targeting rules or offers.
There are different WooCommerce related products plugins – Product Recommendations, Related Products for WooCommerce, WooCommerce Recommendation Engine and others. These plugins help you show upsells, cross-sells and frequently bought together items. Some of them are good, but they still need manual work and set up. Some are even expensive.
There is nothing that takes care of different types of sales funnel offers. There is limited design automation. And no copywriting assistance. They don't offer split testing or tracking either.
So what if you could get ready-made high-converting offers within minutes? What if you could easily encourage visitors to buy more without any friction? Offermative is the solution you are looking out for!
Offermative combines different techniques to boost conversions
Offermative's AI system automatically generates related product recommendations. It picks products based on previous buying behavior, similarities, inventory levels and many other factors. This means prospects will see better product recommendations.
Whether it is "Complete the look with these additional items" or "People who bought this, also bought" type recommendations – you benefit from social proof and smarter recommendation engine.
Related product display creates curiosity, increases time on site and reduces cart abandonments.
"I can now quickly run campaigns on multiple courses to recommended other courses. This has given immediate boost to sales."
"I don't run discounts, but love the flexibility to show related products without a discount. The automated rules are great for specific targeting."
Offermative is unlike other related product plugins
Offermative is like a smart marketer, amazing designer, effective copywriter, detail-oriented web developer, big data analytics expert and strategic mentor – all rolled into one. It automatically does everything for you and gives you full control.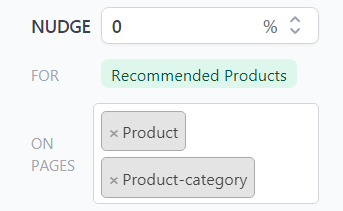 Instant setup, easy configuration
Click on the 'Generate Campaigns' button and the plugin will generate multiple offer campaigns. Navigate through them, find the recommended products campaign, edit offer text if you wish and make it live. All mobile-optimized campaigns.
Smart product recommendation engine
Offermative automatically picks up products to recommend along with their images. Frequently bought together, popular, trending, inventory clearance, category based recommendations if available from your store's data and runs them on the product pages based on smart targeting rules.
Convert users with or without discount
Not a fan of discounts? Offer related products by setting the discount to zero. If you want to sweeten the deal with a discount, choose a flat or % discount. The discount coupon will be automatically created and applied.
Avoid confusion with limited recommendations
The plugin allows you to show a maximum of three value-driven related products for the inline messages. Customers can select all products or the ones they like and add to their order.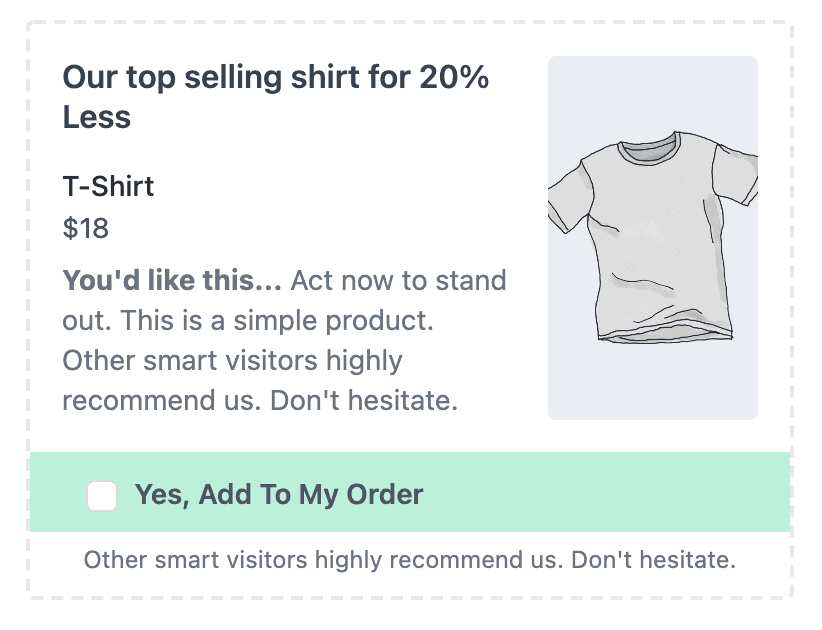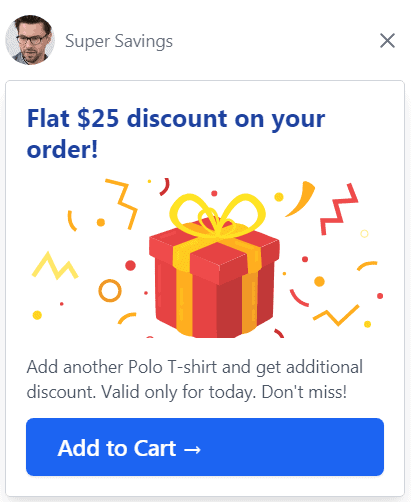 Multiple designs to show offers
Use inline message, slide-ins (messengers), header / footer bars, popups, order bump and cart bump to recommend related products. Or use notification boxes to tell users about your hot-selling products.
Run offers throughout the sales funnel
Not just on the product, cart and checkout pages, show related products offer on product-category pages, thank-you pages or other pages and increase your chances of selling more.
Convert cold traffic on blog posts
Experiment with showing recommendations with a discount on your blog posts. This can convert completely cold traffic to customers!
Track offer performance
Did people purchase more headphones than protective cases along with mobile? Did the offer work better without a discount? Know how much each offer is contributing in terms of revenue and conversion rate.
"$2000 in one week"
"best plugin – even if you don't like running discounts"
"it's so easy"
"use this on all my sites"
"converts visitors to customers"

A lot more than recommendations…
Run upsell, cross-sell, BOGO offers
Run a giveaway, provide e-books and other resources
Show order bump, cart bump offers
Notify customers about new product launches, upcoming sale or other events on your store
"This is an amazing automated solution. I can now sell low priced items along with high priced ones as recommendations."
"The ease and automation blew me away. Discount offer designs are good and targeting rules are very effective. The perfect solution to grow sales."
Still unsure?
WooCommerce influencers – including Chris, Patrick & Alex have hailed Offermative as a game-changing solution for every WooCommerce merchant
Offermative is developed by StoreApps – official WooCommerce extensions developer, with more than a decade of track record, 300k+ customers, 350+ five-star reviews and renowned support
There is no risk and it's worth the purchase