discounts, recommendations and cart upsells done for you – automagically and free!
Offermative's AI generates campaign designs, copywriting, conditional logic and offers automatically.

No more worrying about what offers to create, products to promote, how to design, what to write. Experiment with dozens of promotions in minutes all by yourself.

The best way to optimize profits and sell more – with almost zero effort. Others are already making thousands of extra dollars using Offermative every week.
Most of us make a lot less than what we could, why?
We all have experienced that promotional campaigns optimize revenue and profits throughout the year – not just sale seasons. Proper product display and placement always sells more units. Yet most of us don't run enough offers because…
It takes a lot to run good offers
What products to offer, whom to target, should we discount it or not, writing headlines.. These are difficult choices.
Designing the actual offer, HTML, CSS and coding is hard – even if you use a plugin. And everyone faces writer's block when it comes to copywriting.
You still have high overall cost and effort: decision maker + marketing exec + design guy + copywriting expert + webmaster…
Sales funnel tools are complex
There are different plugins and SaaS tools for cart flows / woo funnels / smart offers / related product recommendations / checkout pages: but most still require expert knowledge, may not be suitable for your type of business or are not well integrated with WooCommerce.
Despite all the hype and hours of effort, you're left with trial and error to figure out offers that convert!
Fear of losing customers
Irrelevant, frequent and annoying offers can decrease checkouts. And since getting offers right is a lot of work, we just give up and miss out on big revenue.
Running discounts only during sale seasons also is huge lost opportunity. If you could easily run right amount of and right type of offer campaigns, you will make a lot more money!
Read this page carefully – this can solve your problems.
What if software did all the hard work of optimizing your sales funnel and revenue?
Offermative is like a smart marketer, effective copywriter, amazing designer, detail oriented web developer, big data analytics expert and strategic mentor – all rolled into one.
Offermative generates offers, designs, copywriting and targeting rules for you
Every time you click the "Generate Campaigns" button, our intelligent system will create a set of unique offer campaigns for your store.
Offermative automatically picks up products / categories to promote, discount pricing, targeting rules, offer designs and even writes headlines and all other copy text.
You can review campaigns, make minor tweaks if you want and select the campaigns you want to go live with. Then click "Schedule" and they will be scheduled to run for a fortnight automatically.
Offermative will use smart algorithms to show these campaigns to visitors, keep converting them to customers, and maintain a track of results.
And oh well, configuration is easy too. All Offermative needs from you is the maximum discount you're willing to offer, a couple of words about your target audience and products or categories you do not want to run offers on.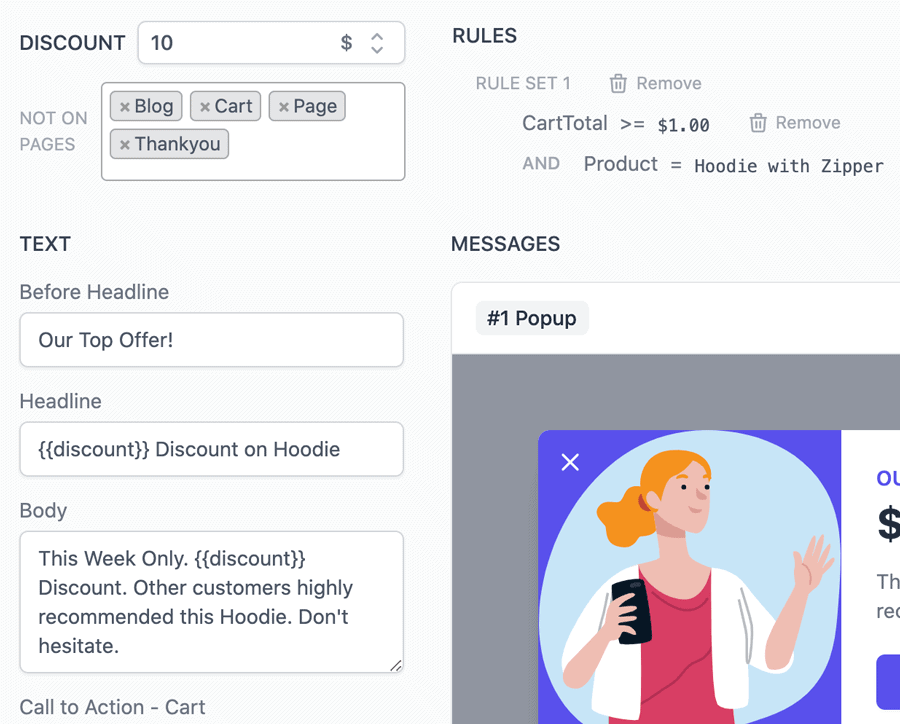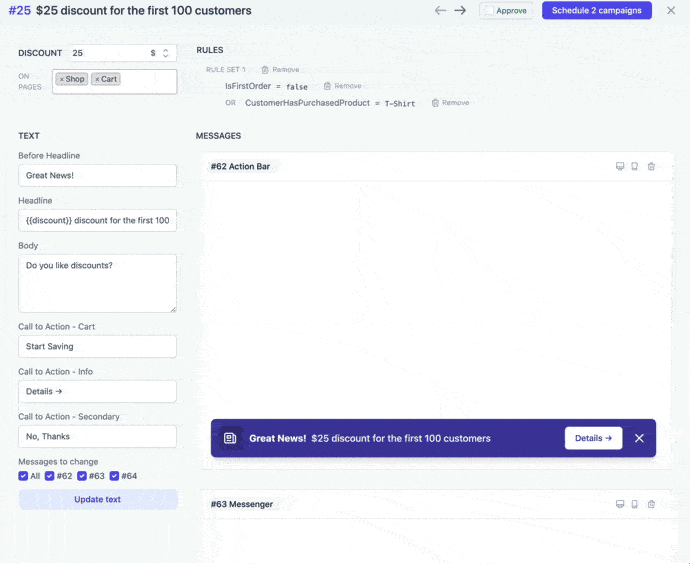 Go live with dozens of high converting targeted promotions within ten minutes
No more waiting for different teams to think about, design, write and run campaigns. Since Offermative does everything automatically, all you have to do is review generated campaigns, tweak things as you like and schedule approved campaigns.
All the offer types: WooCommerce upsell, cross-sell, order bump, cart bump, percentage / flat discount coupons, Amazon like related product recommendations, frequently bought together or category based suggestions, instant coupons, sitewide sale…
High converting, beautifully designed, mobile responsive offer message design templates: inline, header / footer bars, slide ins, overlay popups…
Artificial Intelligence generated copywriting: headline, body text, CTA, offer description…
Micro offers: you don't need to run bumper discounts all the time, Offermative can run highly targeted offers on hundreds of products. This is a great boon for stores with large catalogs.
Watch results, make money and repeat!
Offermative will run each campaign for a fortnight. We recommend you do a review every week, extend campaigns that are working well and set up new campaigns when you need. All this will take just a few minutes, but will keep bringing in customers and revenue!
This speed and ease of setting up promotions means you can run a lot of experiments and scale up quickly. You will also collect a lot of evidence about what type of offers work well for what type of products and for what segment of customers.
Offermative can run segment specific micro offers, so you don't have to worry about hitting visitors with too many promotions. As a matter of fact, larger stores may run dozens of campaigns at the same time.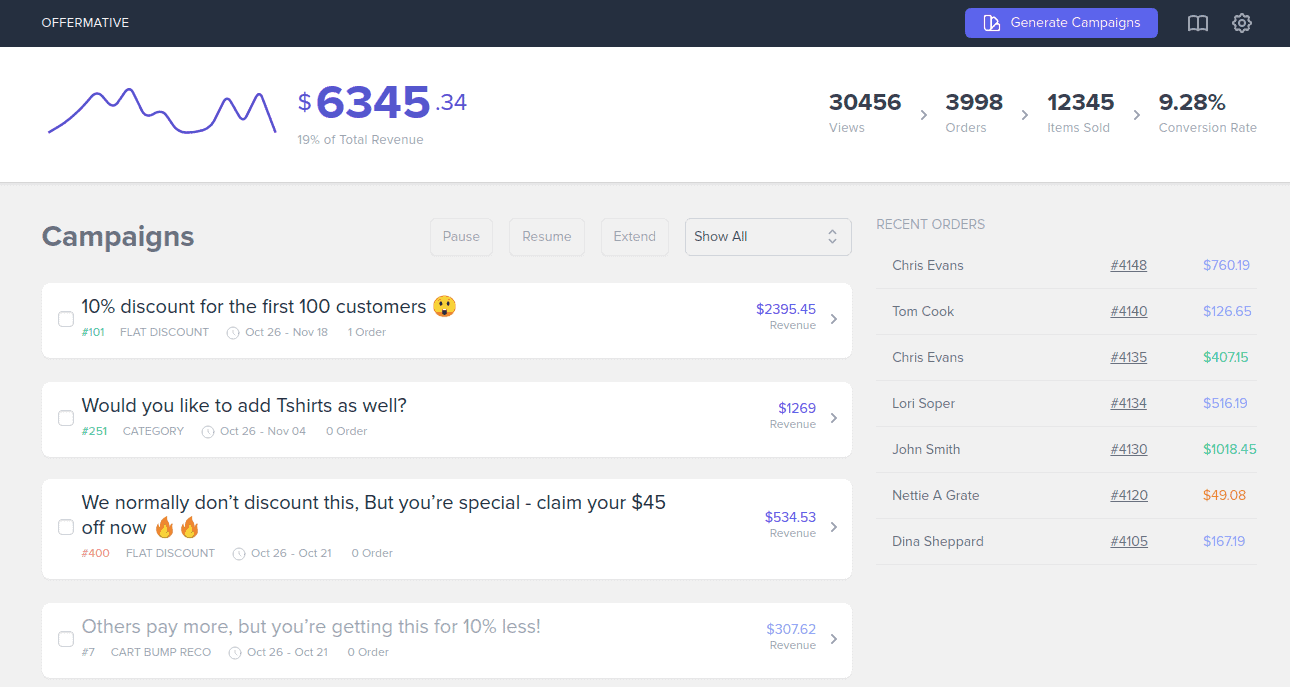 You can run offers and recommendations like these almost automatically!
Upsells, related product recommendations, cart and order bumps, inline cart messages, popups, sticky bar style promotions, chat messengers… there are dozens of ready made designs.
Offermative is a no-brainer, no-risk solution
Thousands of extra dollars in minutes of work
Offermative makes it effortless to set up and run targeted promotions in WooCommerce. If you use it, your revenue will go up, your inventory will keep moving and you'll convert more customers frequently. That means, you will get significant returns without much efforts.
Try yourself – it's free and worth your time
94% people witnessed outstanding success with Offermative.