WooCommerce marketing automation for offers in the sales funnel
Smartly positioned upsells, cross-sells, product recommendations, discounts, order bumps to optimize your sales funnel.

But it's a lot of work to get them right. Offermative automates all and makes marketing work easy for you.

Offermative will grow sales, increase conversions and clear inventory for you – guaranteed.
Everything you'll need
Discounts, Nudges or Reco
Offermative works for lots of different use cases. How would you like to win more customers?
Woo Discount Rules

Fixed, percentage, sitewide, cart discounts, conditional, quantity, category, exclusive… all sorts of discounts are covered.

Learn more

Coupons

Powerful discounting rules without advanced coupon setup. Offermative will create coupons and also apply them for the users automatically.

Related Product Recommendations

Trending, frequently bought together, new, top sellers… Offermative will recommend what's likely to sell.

Learn more

Upsells & Cross Sells

Increase average order value and life time value by selling more with smartly positioned funnel bumps.

BOGO Deals

Show a buy one get one offer on a different product to boost your sales.

Offers in Purchase flow / Sales Funnel

Offers based on cart contents and pricing – with unobtrusive designs.

Order Bumps

Nudge must-have products on the checkout page without distracting the user flow.

Learn more

Post Purchase / Thank You Page Offers

Different types of promotions on the order complete / thank you page.

Free Gifts / Giveaways

Dynamically set price to zero to give away addons and free gifts.

Dynamic Pricing

Intuitive offer campaign rules for different dynamic pricing use cases.

Multiple Message Types

Show offers via popups, header / footer bars, slide-ins, notification boxes.

Need something else?

Offermative covers almost all offer types that have high conversion. Try it!
Optimize your sales funnel conversions in minutes – because software does all the hard work!
Offermative is like a smart marketer, effective copywriter, amazing designer, detail oriented web developer, big data analytics expert and strategic mentor – all rolled into one. It automatically does everything for you and gives you control to fine tune.
5-minute setup
Answer a few questions – like the maximum discount you can give, products to never discount and a little insight about your audience. Offermative will set everything up – and learn from your existing order history.
AI automation + enough control
While Offermative automatically generates ready-to-go-live onsite marketing campaigns, you can quickly tweak them to suit your needs.
Product selection
Offermative studies your catalog and order history to pick up what products should be promoted, if they should be discounted or not. But you can change this easily.
Discounting
Sitewide seasonal sales, product / category specific fixed or percentage discount. Offermative will automatically pick an appropriate discount (or zero discount).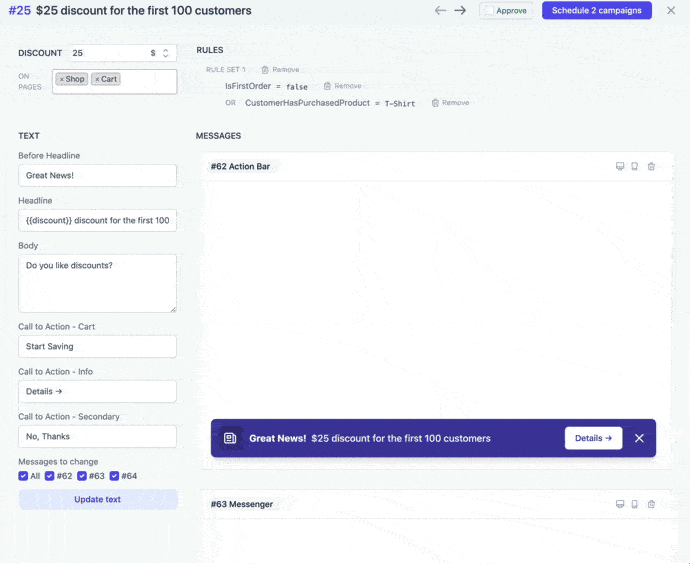 Product recommendations
Upsells, cross-sells, in-category related products, pushing top-selling products or trying to clear inventory of items that are not selling as much. Offermative can run intelligent recommendations automatically.
"This is a solid solution. The designs, automation, recommended section and inline messages… Very useful for us."
Conversion focused placement in sales funnel
Too many or intrusive promotions and you may lose the customer. No promotions and you leave money on the table. Offermative's offer messages are tested to improve conversions and shown at the right place at the right time!
Dynamic targeting rules
Who should see the promotion campaign? Offermative sets up multiple targeting rules so the offers show to a limited set of qualified customers. You can tweak this if you need.
Responsive templates & images
Graphics and design is a big task. Offermative includes dozens of high converting offer designs (customizable and devise responsive) and automatically selects a design appropriate for the offer. It can use your existing product images or show images on its own.
Expert copywriting & CTAs
This is where most of us get stuck. What headlines and CTAs will close the sale? How to tap into the pain and desires of the audience? Offermative takes away your pain by writing all the promotion copy for you!
Translations / multilingual
We understand your site may not be in English. Offermative works with WooCommerce sites in any language, and our AI copywriting generator also supports translations for a whole range of popular languages.
"I instantly got attracted to the readymade offer designs. Everything is so quick and automatic that I can run discount offers on lots of different products and grow sales easily."
A/B Split testing
Would a popup work better or a header bar? Or an inline coupon? Each Offermative campaign can contain multiple messages and they are all split tested automatically.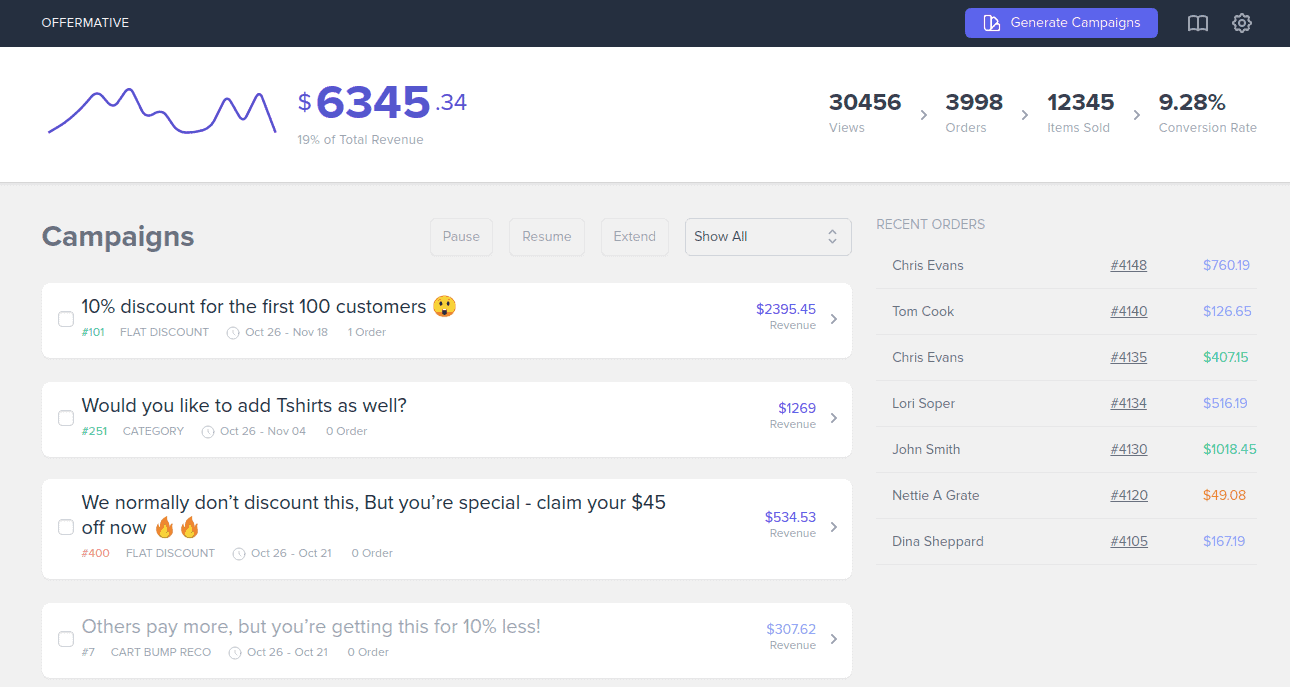 Campaign management
Set date / time as to when each offer campaign will be made live. You can extend campaigns that are working well or stop the ones that are not performing. And of course, you can edit various aspects of the campaign too.
Tracking & analytics
Promising vs delivering… Offermative tracks everything it does and learns how to run better campaigns for you. The more you use it, better results you can experience.
WooCommerce sales automation
Since Offermative can take care of the entire sales / promotion process and is tightly integrated with WooCommerce, it will become your "automatic sales machine", closing orders and making sales on its own.
"The biggest pain Offermative solved for me is the entire offer creation process! I don't have to deal with any coding, designing or coupons."
Will it work for you?
Yes, every WooCommerce store can use Offermative
Different industries, business sizes, plugins and themes. Offermative can help everyone convert more customers.
"$2000 in one week, I'm awestruck" "couldn't imagine it'd so easy" "the best return on investment ever" "now I use this on all my sites" "converts more new visitors to customers" "I don't like running discounts, but Offermative is just too good – and it does product recommendations too"
Physical Products

Clear inventory, control discounts, exclude certain products from promotions… Offermative is magical for e-commerce.

Digital Downloads & Virtual

Clever discounting and bundling can immediately improve results for everyone selling downloadable or virtual products.

Subscriptions

Offermative supports WooCommerce Subscriptions plugin and can run offers for recurring products easily.

Product Variations

Offermative is compatible with variable products and can allow people to select an appropriate variation when they claim an offer.

Themes

Offermative won't mess up your WordPress theme, nor can your theme distort Offermative designs. We've tested it with popular themes as well.

Plugins

Offermative adheres to WooCommerce standards and works with other plugins. It would work even with other plugins that enhance the sales funnel.

Payment Gateways

Offermative is compatible with all payment gateways that WooCommerce supports. Plain and simple!

High Volume Merchants

Offermative won't slow down your site. All campaigns have targeting rules so they will show only to an appropriate audience. Offermative can create breakthrough results for you.

Creators and Indie Makers

You can setup creative offer campaigns using Offermative easily. You don't have to worry about design or technical complications.

You

Every extra order you get through Offermative helps you get closer to your goals. Offermative is a ground-breaking solution and we're here for your success.
Show offers based on exit intent, time spent on-page, and other triggers.
Show offers based on acceptance/rejection. Like if the user accepts an upsell, show another upsell or a downsell.
Offer rules based on custom taxonomies.
Allow users to add more than one quantity of product to the cart via offer campaign.
Email notifications updates related to expired/new campaigns and campaign summary reports.
Offermative is a no-brainer, no-risk solution
Thousands of extra dollars in minutes of work
Offermative makes it effortless to set up and run targeted promotions in WooCommerce. If you use it, your revenue will go up, your inventory will keep moving and you'll convert more customers frequently. That means, you will get significant returns without much efforts. Buy Offermative – it's worth your time and investment!
94% people witnessed outstanding success with Offermative