Campaigns Tracking
Offermative provides a dedicated dashboard to track and manage all your campaigns. Analyze what works the best for your store.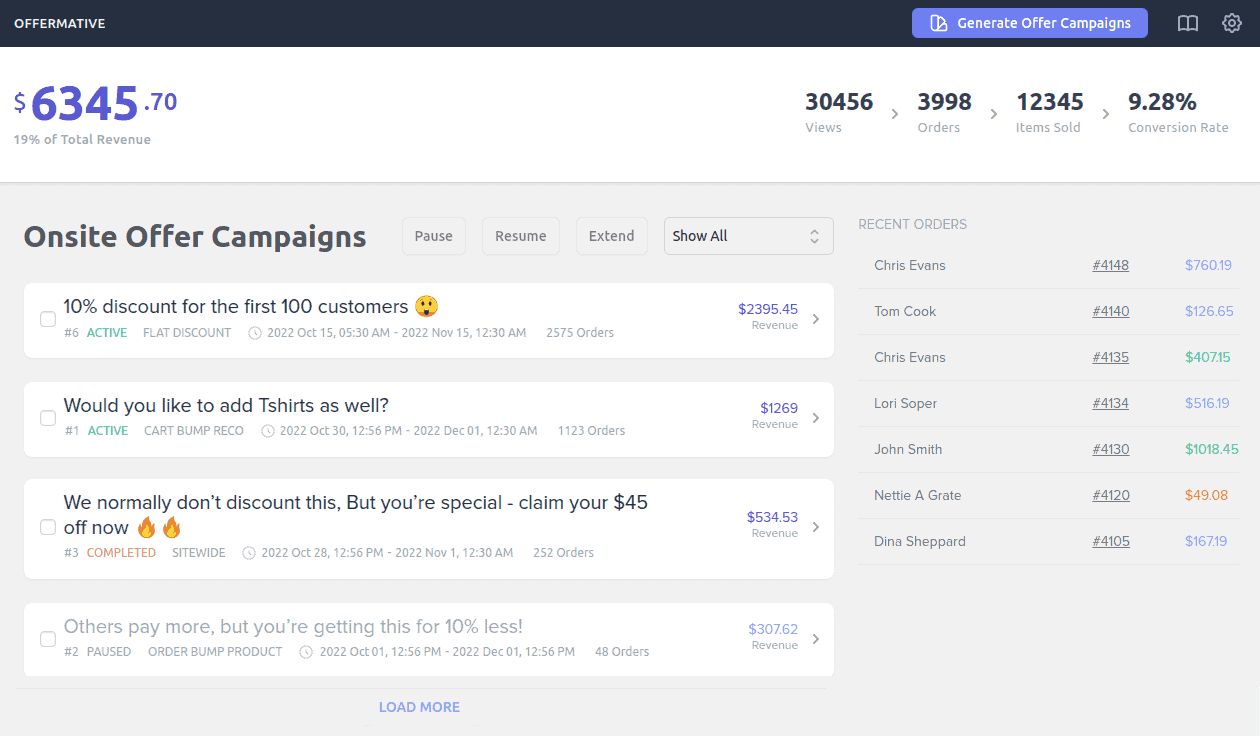 Offer campaign metrics
The dedicated dashboard shows you the overall performance of all the offer campaigns you run on your store.
Here's what each metric means:
Sales number – Total revenue earned from all the offers you have run till date and its contribution to total revenue.
Views – Number of times all the campaigns were viewed.
Orders – Number of orders placed from all the campaigns.
Items Sold – Count of products in valid orders ('on-hold', 'processing' or 'completed' statuses) placed from all the campaigns.
Conversion rate – Number of conversions (orders placed) to the number of views, expressed in percentage form.
You'll see similar stats for individual performance of each campaign and each message. That is revenue earned from that campaign/message, the number of views for that campaign/message and so on. Click on a campaign for the stats.
Campaign management
Below the stats, you'll see all the offers that are live/scheduled/paused/expired. You'll also see a drop-down to filter offer campaigns.
Check the box beside the campaign – single or multiple campaigns and you can do these:
Pause – Stop showing a campaign if it is not performing well.
Extend – Extend a campaign for more days if it is performing well. It would extend the campaign end date to 14 days from now.
Resume – Use this to make the campaigns live that are paused (after changes). Resuming an expired campaign would extend the campaign end date to 14 days from now.
Besides the campaigns list, you'll see a list of all orders placed from the campaigns – customer name and order total. Clicking on the order total will take you to the individual order edit page for the same order.