Installation, Login and Settings
Offermative is easy to set up and use. Here's how to get started.
Installation and activation
Once you purchase / sign up for Offermative, the plugin will be automatically downloaded. If not, click here to download it.
Once downloaded, go to your:
WordPress Admin > Plugins > Add New > Upload.
Select the downloaded 'offermative-discount-pricing-related-products-upsell-funnels-for-woocommerce.zip' file and upload. Install and activate as you do for any WordPress plugin.
Login
On plugin activation, you'll be taken to the:
WordPress Admin panel > Marketing > Offermative page.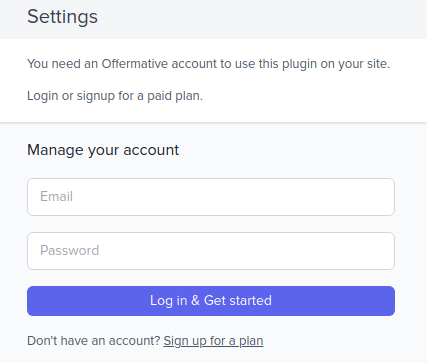 A slide-in panel will open up from the right. Enter your email and password to login (Password will be automatically sent to the email you used to purchase Offermative).
Settings – discounts, restrictions, copywriting…

On successful login, you will see a Settings screen for initial configuration for automatic offer generation.
Under Discount and restrictions:

Enter the maximum percentage discount and maximum fixed discount amount you'd like to provide. It will not exceed these limits in a single order whenever a discount is offered.
Search and enter products / product categories you don't want the discount to be applied on.

Under Automatic campaign copywriting:

Enter two common desires of your customers
Enter who are your target customers
Write something your audience really wants. Offermative will generate copy based on your inputs. You can change that anytime in the Settings.
From the drop down, choose the language you want to show the offers to your audience.

Under About you, enter your name and email and click on the Save button at the top.
You are now set to generate offer campaigns and make them live.