How often do customers go the extra mile to buy a little more to save money?
That's the power of quantity discounts or volume discounts or bulk discounts. Buy 10 get 10% off, buy 20, get 15% off and so on.
However, most WooCommerce store owners struggle to set up converting bulk discount offers. From designing work to copywriting to making it live, it's expensive and time-consuming.
So what if I tell you that these offers are done for you? Offers that both attracts and converts?
Read further to get an answer to your burning question 'How to set up WooCommerce bulk discount offers easily?'
WooCommerce bulk discount offers done for you
Offermative is an AI-based plugin for WooCommerce that generates readymade bulk discount offer campaigns.
No design work, no copywriting, no coupon code…it handles 15+ mundane offer tasks, saving your precious time and money.
Select from the campaigns you like, make some tweaks and your bulk discount offers are live within minutes.
Install and activate the plugin, tell Offermative about your target audience and you are all set. More about it here.
Let's dig into more details on setting up different bulk discount offers in WooCommerce.
Bulk discount sitewide or storewide
In this type of discount, the customers can avail of the offer irrespective of what they have added to their cart.
The only criterion set here is the product quantity should exceed a certain number or the cart total should be very high. For example, we'll create an offer 'Buy more than 10 items and get 15% off'.
Steps to setup
Once you configure the settings, you'll see the Generate Offer Campaigns button. Click on it.
Select the Sitewide discount - fixed or percentage option and other offer types. Click on Generate.

Offermative will now show you ten campaigns in one go which you can view using the navigation arrows.

Give a suitable title to your offer at the top and enter the required discount. In our case, it is 15%.
Under RULES, click on Add rule group.
Set the condition as Product Quantity >= 10.
Under ON PAGES, add or remove the pages you want to show the offer.
Set the date range for the offer. It will be shown only for the selected time frame.
Offermative will give you different message types to show your offer – action (header/footer bars), popups, messengers and notification boxes. We chose the Action Bar type here.
You also get offer text you can tweak as well as the option to select the device to show the offer. And yes, the offers are device-responsive, so that's another task offloaded for you.
Customize the campaign for colors, font and other design elements if you wish.
Click on Approve and Publish your campaign.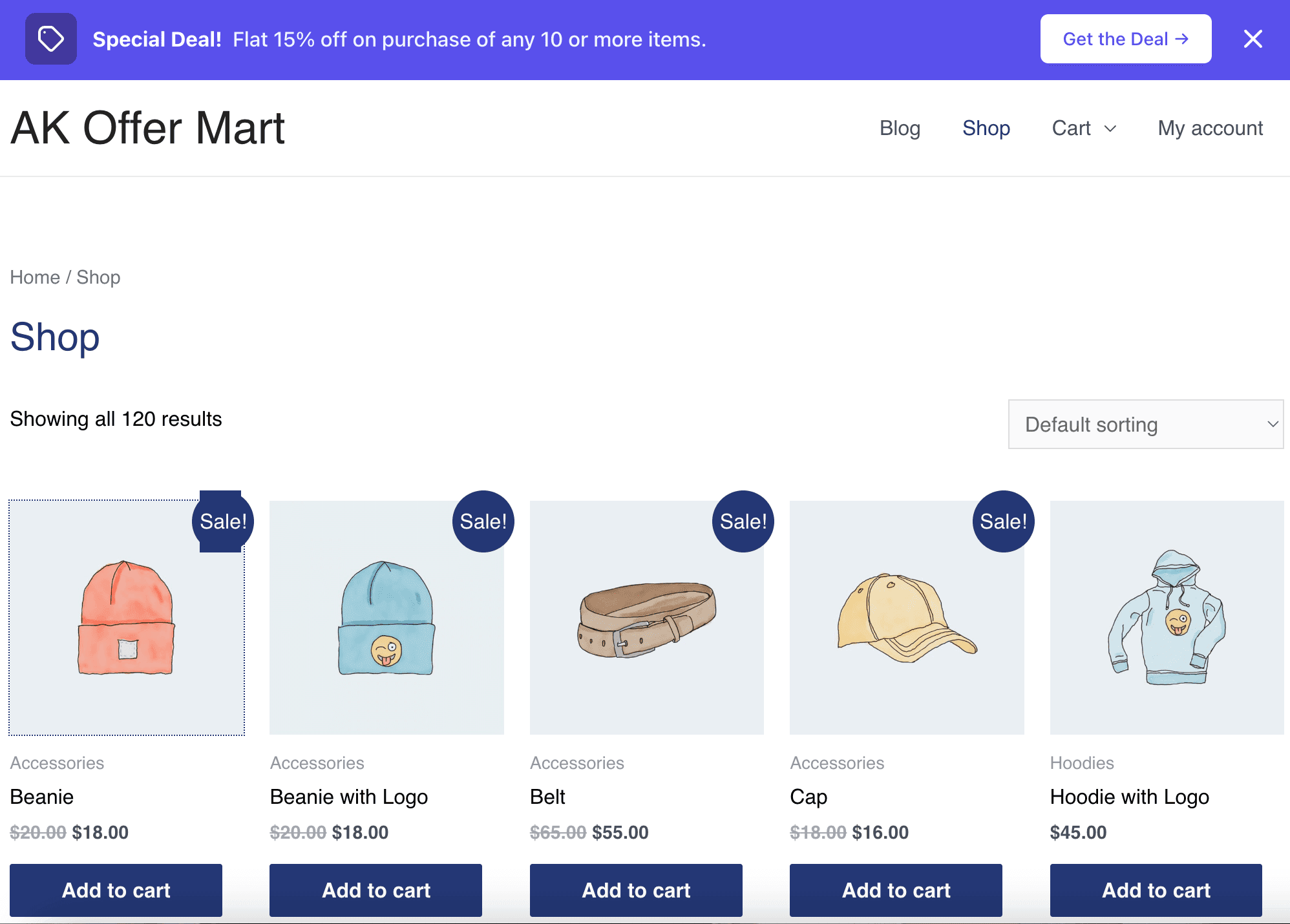 Your sitewide bulk discount offer is ready! Doesn't it look engaging on the website!
Bulk discount offer variations
You can set up hundreds of bulk discount deals by following the similar steps mentioned.
What will change is the rules, discounts, products and categories to be selected and the pages to target. Use 'all' or AND condition for the rule groups, select message type, approve and publish the campaigns.
Let's have a quick glance through some of these offers with examples.
Bulk discount per product variation
We'll consider the example of Rocky's online clothing store. He wants to offer a discount only on a round neck, navy-blue colored T-shirt, in quantity above 20.
Set your offer rules as follows:
Product = Round Neck Navy
Product Quantity > 20

Bulk discount per product category
Victoria has an online boutique and sells products across various categories – designer dresses, watches, skincare, hair care, cosmetics, women's fashion, etc.
But she wants to offer a 20% discount on the purchase of 5 or more items, only from the Cosmetics category, irrespective of the products purchased from that category.
So if a customer buys 4 lipsticks and 2 perfumes from the Cosmetics category, the discount will be applied. But if the customer buys 4 lipsticks and 1 watch, the discount won't be applied as both are different categories.
Here are the rules to set:
Category = Cosmetics
Product Quantity >= 5

Bulk discount based on cart total
Kim runs an online grocery + bakery store, where she replenishes food items twice a day.
She wants to offer 25% off on the cart total above $150 and products in the cart should be from the Food and Drinks category only like ready-to-eat, tetra packs, bread, cakes, etc.
Here are the rules to set:
Cart Total > 150
Category = Food and Drinks

Bulk discount based on user behavior
Hobo sells automobile accessories online. And he only wants to give a 10% discount to those customers whose lifetime value has exceeded $5000. But the discount will be applicable on all products but the cart total should also be above $500.
Here are the rules to set:
Life Time Value >= 5000
Cart Total > 500

You can also set up more rules and play with different bulk discount offer types.
Offermative will help you gauge the performance of each offer, so you can decide whether to pause or extend a particular campaign.
Also run WooCommerce upsells, cross-sells, BOGO
Like bulk discount offers, you can easily set up BOGO, order bumps, sitewide discounts, and other offers on thousands of products within minutes.
And setting them up is also easy. Refer to the bulk discount offer steps you read just now.
Conclusion
You need your precious time to be invested in other business and personal growth. You can't afford to lose it in mundane offer tasks.
Leave it to Offermative. Hundreds of bulk discount offer campaigns can be made live within minutes.
Select campaigns you like and you are done. Then wait for the sales to pour in.