Everyone loves discounts. As WooCommerce store owners, we're well aware of the common issues with customers forgetting or mistyping coupon codes.
This is where automatic discounts come to the rescue.
However, even with auto-apply coupons, the prerequisite is still creating a coupon. When dealing with hundreds or thousands of products, this can become a time-consuming ordeal.
Now, what if I told you that discounts could be applied automatically without creating coupons? Let's explore how.
AI-based plugin to set up automatic discounts
Offermative plugin will help you set up discount campaigns on hundreds and thousands of WooCommerce products and variations within minutes, without any coding.
You won't need to create coupons, design offers, craft offer messages, or set up complex targeting rules. Everything is automated, yet fully customizable.
Once the user adds products to the cart, the relevant discount coupon will be auto-applied.
Be it a sitewide sale, order bumps, upsell cross-sell or BOGO offers, you are completely free from coupon creation hassles.
Let's see how a coupon gets auto-applied for a sitewide sale.
Purchase the Offermative plugin, install and activate it as you do for any WordPress plugin.
Log in using your email and password (automatically sent to your email).
Under the Settings screen, input your target customers, their desires, the language in which you want to generate the offers, the maximum discount to offer. Add exclusions if any and save your Settings.

You'll see the Generate Offer Campaigns button. Click on it. You'll have further two options:

Let Offermative decide option
Other offer types (you can choose multiple options)

Select the Sitewide discount - fixed or percentage option. You can also select other offer types. Click on the Generate Campaigns button.

Offermative will generate ten campaigns in one go. Use the arrows to navigate between campaigns. Click on the same button to generate more campaigns.
You'll see your offer designs with some rules and the offer text generated, all editable.

Give any relevant title to your offer. If you are looking for 'how to give automatic 15% discount on bulk purchase', this is how you do it.
Enter the discount amount.
Select the pages where you want to show the offer.
Choose the date range and time the offer will be shown to the visitors.
The TEXT section allows you to edit the offer copy, including the headline, description, and CTA.
You can set rules for automatic discounts based on categories, products, or cart total if desired.
Offermative provides multiple message types (mobile-optimized) for displaying your offers, including pop-ups, slide-ins, header-footer bars, and notification boxes. Choose your preferred options and conduct tests to optimize conversion rates.
Tick the Approve checkbox and hit the Publish campaigns button.
That's it.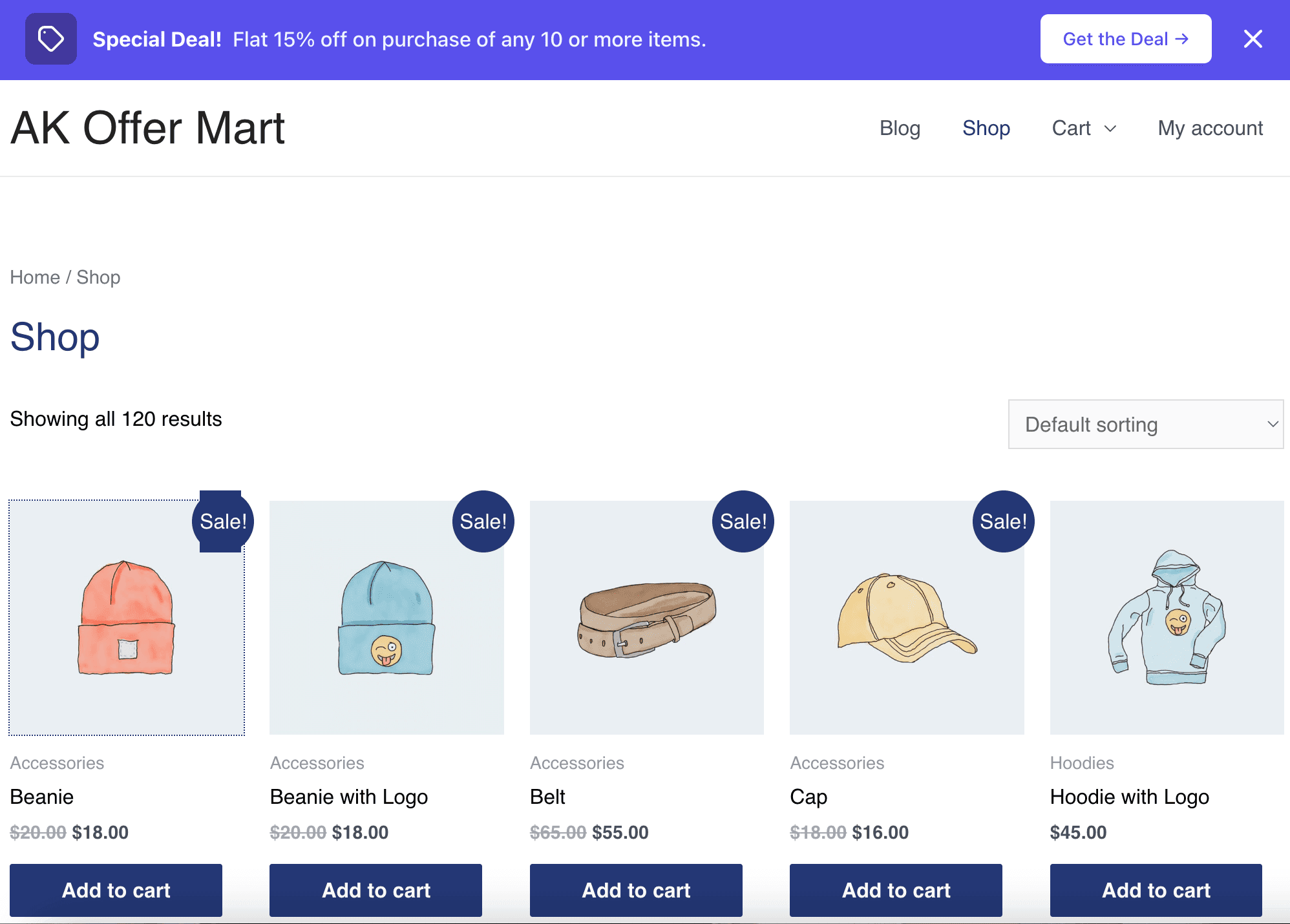 Your WooCommerce automatic discount offer campaign will look like this on the website.
When a visitor lands on your website, they'll see the sale message and click on the CTA button. Upon adding the required products to the cart, the discount will be applied automatically.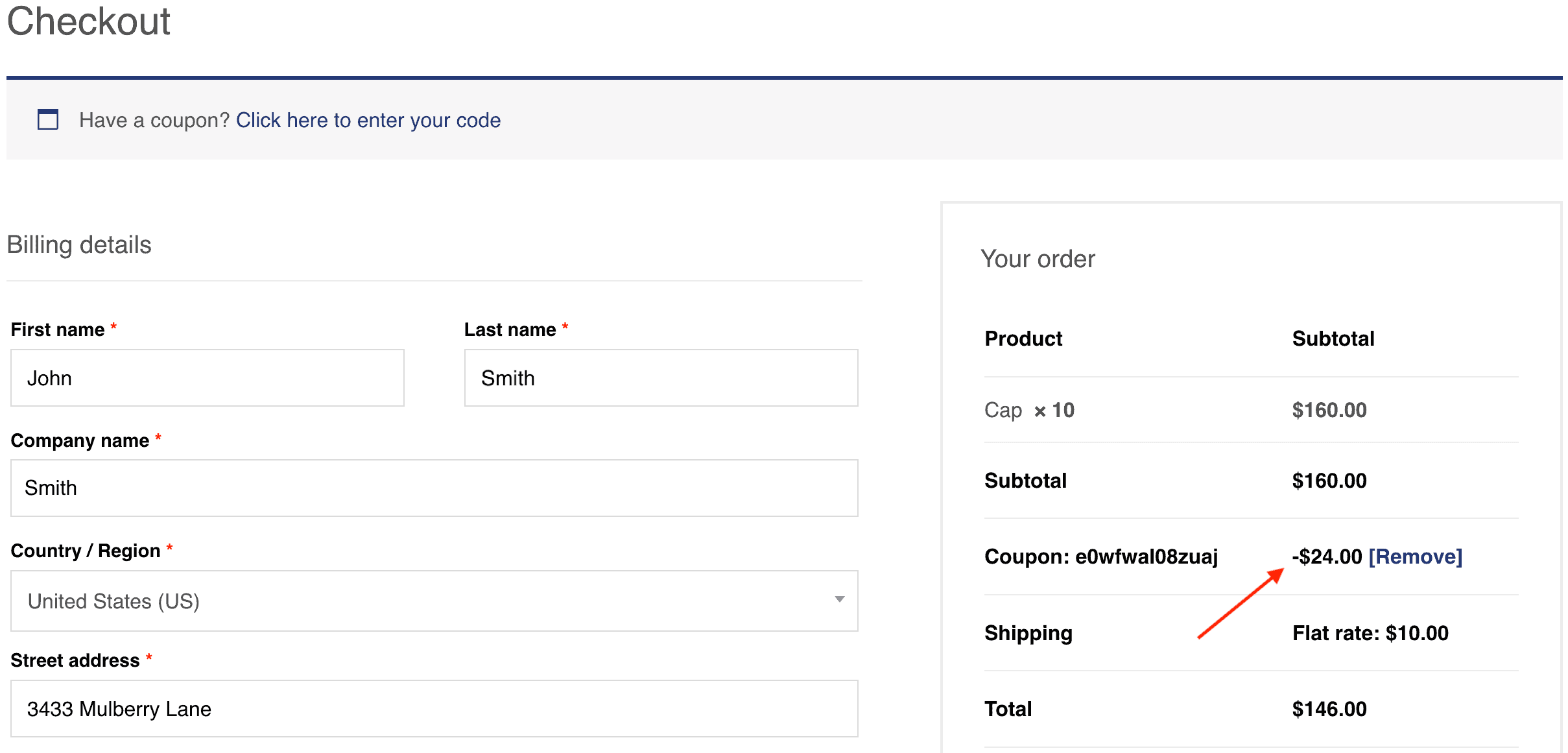 No need to create coupons, and no need for visitors to apply them manually – it's all taken care of.
You can monitor your sitewide sale offer's performance through the Offermative dashboard, view offer statistics, and make adjustments based on performance.
Conclusion
Your time is precious, and Offermative is here to help you save it. This plugin isn't just for coupons; consider it as your productivity booster and money-saver.
Instead of investing hours and money in crafting offers with uncertain conversion rates, Offermative ensures time savings and quick returns.
You also experience a smoother, more efficient approach to managing discounts.